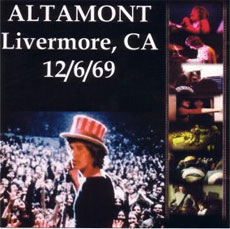 If the Woodstock Concert in August of 69 was the height of the concert scene, then the Altamont Festival in December of 69 was the bottom.
The Altamont Festival was planned as the final stop of the Rolling Stones Tour of America, although only Santana, the Grateful Dead, Jefferson Airplane, Crosby Stills Nash and Young, and the Flying Buritto Brothers were advertised. The Stones appearance was supposed to be kept secret to prevent unmanageable crowds. Originally scheduled for Golden Gate Park, they were unable to obtain the necessary permits, and the event was moved to Sears Point Raceway. Then, after a breakdown in contract negotiations and just a day before it's start, the festival was moved to the Altamont Raceway.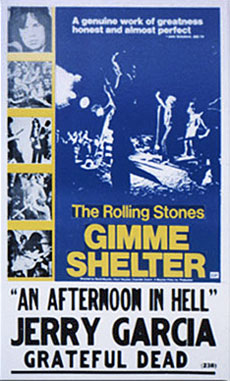 In the meantime, Mick Jagger announced at a press conference that the Rolling Stones would make a surprise appearance. It is speculated that this was done to increase attendance for the filming of a documentary, and it did just that. An estimated 300,000 attended the free concert and a bunch of problems arose. There weren't enough bathrooms or medical help, the sound system wasn't sufficient, and the stage wasn't high enough for security or for anyone to see.
Hell's Angels Security
On top of all, the Rolling Stones manager had hired the Hell's Angels for security. The result was predictable, fights broke out right from the start. The Angels became more violent as the day went on, probably because they were consuming as much beer and drugs as the rest of the crowd. One of the Angels motorcycles was knocked over, and they became even more belligerent,
The fighting resulted in Marty Balin of Jefferson Airplane being knocked unconscious (reportedly by one of the security guard Angels), and The Grateful Dead refused to play and left the area. This resulted in a span of several hours without entertainment until the Rolling Stones could start, which didn't make the crowd any friendlier.
As the Stones were playing, a concert goer, Meredith Hunter scuffled with the security Hells Angels and reportedly drew a gun. His death was recorded by several film crews as he was stabbed and kicked to death. One person was arrested, but was eventually acquitted when a court ruled that it was in self defense. The Stones, unaware that Hunter's beating was fatal, and maybe also in fear of what would happen if they left early, kept on playing. Three others also died at the Altamont concert. Two people were run over in their sleeping bags, and one person drowned.
The Altamont Festival turned out to be one of the most violent times in Rock History, The Grateful Dead went on to write half a dozen songs about it, and several documentaries were released.