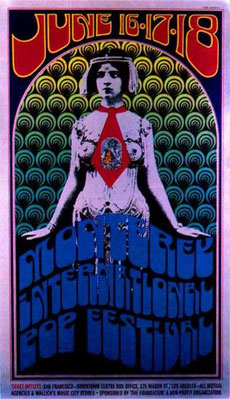 The Monterey Pop Festival, officially known as the Monterey International Pop Music Festival, ran from June 16 to June 18, 1967. It was the first major rock festival in the world and became the model for future festivals.
The Monterey Pop Festival was held at the Monterey County Fairgrounds in Monterey on June 16 to June 18, 1967.  It was the kickoff to the summer season of the Summer of Love.  Big pop festivals were new and each was an unpredictable adventure.  This one turned out great.
The festival was planned by producer Lou Adler, John Phillips of The Mamas & the Papas, producer Alan Pariser, and publicist Derek Taylor. The festival board also included members of The Beatles and The Beach Boys.
With the exception of Ravi Shankar, the artists all performed for free, and all revenue is donated to charity (live recordings are still generating royalties). Attendance was over 200,000 and Monterey Pop is generally regarded as the model used for planning Woodstock 2 years later.
The Monterey Pop Festival included several groundbreaking performances. It was the first US appearances for Jimi Hendrix who was booked on the insistence of board member Paul McCartney, and The Who, and was the first major public performance for Janis Joplin and Otis Redding.
Monterey Pop Festival Performers
The schedule of performers included most of the top acts of the time, but there were 2 big acts that were noticeably absent. Even though they were among the organizers, The Beach Boys had to cancel because of problems with Brian Wilson's draft status, and Donovan couldn't get a visa due to drug problems.
Friday
Saturday
Sunday
The Association
The Paupers
Lou Rawls
Beverly
Johnny Rivers
The Animals
Simon and Garfunkel
Canned Heat
Big Brother & The Holding Company
Country Joe and The Fish
Al Kooper
The Butterfield Blues Band
Quicksilver Messenger Service
Steve Miller Band
The Electric Flag
Moby Grape
Hugh Masekela
The Byrds
Laura Nyro
Jefferson Airplane
Booker T and The MG's
Otis Redding
Ravi Shankar
The Blues Project
Big Brother & The Holding Co
The Group With No Name
Buffalo Springfield
The Who
Grateful Dead
The Jimi Hendrix Experience
Scott McKenzie
The Mamas & The Papas