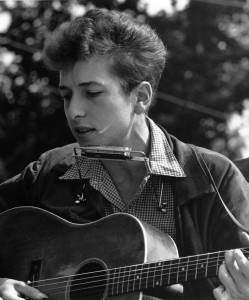 It's difficult to identify which branch of the rock and roll family tree Bob Dylan comes from. As a folk singer, his early works were always on the edge. He brought the protest to protest songs, nasty lyrics to rock's vocabulary, deep poetry to style, and the electric guitar into the mainstream. Some say that he even brought us The Beatles greatest works by introducing them to pot.
Dylans early work was definitely folk. His first album, named Simply Bob Dylan, was mostly covers of folk standards. Mixed in with the reworked songs were two original works. "Talk'n New York" was his story of how he didn't fit in as a mid-westerner singing in Greenwich Village coffee houses. His second original release was "Song to Woody", Bob Dylan's tribute to his musical hero, Woody Guthrie. The album sold very few copies and just barely broke even. Yet the two original gems that it contained were Dylan's announcement that he was going to write and sing about what he wanted to.
His second album is where he broke loose. "The Freewheelin' Bob Dylan" from 1963 was almost all original works and strongly anti-war. It included "Blowin' In The Wind," "Masters Of War", "A Hard Rain's A-Gonna Fall", and "Don't Think Twice, It's All Right." The album soon became a best seller and is included in most surveys of the top albums of all times.
New albums followed soon after his Freewheeling' success, and as Dylan matured, his musical scope expanded. Many of his songs strayed from the traditional folksy and protest styles as they became more personal. His musical style changed to and moved slowly towards rock.
Bob Dylan Shocks the Newport Folk Festival
It was a black day for folk and a big day for rock at the 1965 Newport Folk Festival. Bob Dylan was one of the biggest folk stars and one of the festival headliners. The crowd cheered him as he opened with three of his folk standards: "All I Really Want to Do", "If You Gotta Go, Go Now", and "Love Minus Zero/No Limit". Then he crossed the folk and rock line by plugging in a Fender Stratocaster and launching an amplified electric set backed by Mike Bloomfield and the Paul Butterfield Blues Band.
They cranked out 3 amplified numbers before they left the stage. Some say they were booed off the stage, others say it was planned to play only the three numbers and then go back to traditional folk. Whatever it was, there was no going back. Bob Dylan had announced that the music world was going electric, and he was crossing the line as a rocker.
In 2008, Bob Dylan received a special award from the Pulitzer Prize committee for, as they worded it, "profound impact on popular music and American culture, marked by lyrical compositions of extraordinary poetic power." It was well deserved.