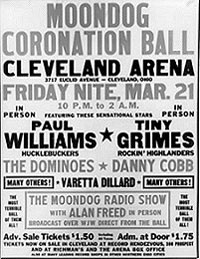 It's always tough nailing down exactly when a culture was born, but for Rock and Roll, the date was March 21, 1952. That was the date of the Moondog Coronation Ball, generally regarded as the birthday of Rock and Roll.
This music style wasn't new, it had been popular in the black community for years where it was known as Rhythm and Blues. The new part was Alan Freed who had recently popularized the term "Rock and Roll" on his radio show. A local promoter named Lew Pratt signed Freed on to publicize the event.
Freed's radio show was called Moondog's Rock 'n' Roll Party, and he brought along his on-air persona "Moondog". The coronation turned out to be for him as the Moondog Coronation Ball earned him the title "King" of Rock and Roll. It was a great mix, using Freed's radio station and sponsors for promotion, they soon sold out the first printing of 7,000 tickets. Check out the price…the best tickets sold for $1.75. The concert was booked in the Cleveland arena which was thought to have plenty of room, but after the first batch of 7,000, another 2,000 were printed and sold out immediately. Apparently, a counterfeiter was also printing tickets, and the end result was a lot more people waiting to get in than seats were available.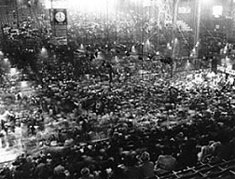 As the starting time approached, lines formed around the block and the arena was packed. It was a mixed audience, about 2/3 white and 1/3 black, and in the 50s, a mixed audience was highly unusual. Paul "Hucklebuck" Williams took the stage, and almost immediately the first fight broke out…the first Rock and Roll concert was shut down by the Fire Marshals after only one song. The Dominoes, Tiny Grimes, the Rockin' Highlanders, Danny Cobb and Varietta Dillard were left backstage and never performed.
On the day after the Moondog Coronation Ball, Freed went on the air to apologize to his fans. He expressed concern that he was going to be arrested and emphasized that he was only a hired MC and not the promoter of the show. Listeners were urged to call in with their support, which must have been successful because his station increased his airtime.