The classic rockers didn't invent rock and roll, but they defined it.  Starting from different directions, four different flavors of rock worked toward the middle.
Classic Rockers #1: R&B Artists
One batch of classic rockers were the base rock and rollers: The black artists who brought rhythm and blues up a notch to what we know as rock today. Following WWII, many Southern blues artists moved North and some of the best ended up in Chicago which became a center for the blues. It was also the time that Leo Fender and Les Paul's electric guitar advances were taking the guitar from a rhythm accompaniment to a lead instrument. Blues artists Howlin' Wolf and Willie Dixon were early masters of guitar driven performances.
Classic Rockers #2: Sam Phillips and Sun Studio
The story moves next to classic rockers Sam Phillips at Sun Studios in Memphis and his early artists. Sun Studios recorded many of the top black blues singers including B.B. King, Joe Hill Louis, Rufus Thomas, and Howlin' Wolf, but in the 50s, it wasn't socially acceptable for whites to buy records from black artists.
It was Sun Studios that released one of the contenders for the title of rock and roll's first record. "Rocket 88″ was recorded by Jackie Brenston and his Delta Cats. As a side note, the song was written, and the band was led by a young Ike Turner, who later went on to fame with Tina.
Classick Rockers #3: Elvis
The next flavor of classic rockers was led by the king, Elvis Presley. As a white performer, Elvis' versions of black blues tunes were considered acceptable by white audiences. It sort of helped that he had a great voice and over the top stage presence too, but many of his first hits were all covers of black blues tunes. That's All Right Mama was written and previously recorded by Arthur Crudup and Good Rocking Tonight came from Roy Brown, and later Hound Dog and Don't Be Cruel.
Sam Phillips and Sun Studios would go on score hit after hit by bringing white performers together with black music. He was the tops in rock and roll records while Sun Studios was up and running, producing more records than anyone else. His first love was blues and said "The blues, it got people- black and white- to think about life, how difficult, yet also how good it can be. They would sing about it; they would pray about it; they would preach about it. This is how they relieved the burden of what existed day in and day out." He was also quoted as saying "If I could find a white man who had the Negro sound and the Negro feel, I could make a billion dollars."
Elvis wasn't the only hero in the camp of classic rockers. It also included Chuck Berry, Jerry Lee Lewis, Little Richard, Chubby Checker, Billy Haley & the Comets, Buddy Holly, Carl Perkins, The Coasters, Bobby Darin, Ritchie Valens, Roy Orbison, and Gene Vincent along with others.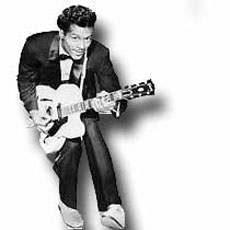 Of this list, many will say that Chuck Berry is the true "King of Rock and Roll", but racial attitudes of the times just wouldn't allow it. He, along with Little Richard, Chubby Checker, Fats Domino, and others received a lot more recognition as attitudes relaxed, but at the time had difficulty finding recording studios and distributors. Many big names of rock from The Beatles to the Rolling Stones credit their influence.
Classic Rockers #3: Rockabilly
The third flavor of early classic rockers was rockabilly. The name came from a combination of rock and roll and hillbilly music, and that's just what it was. Carl Perkins is the acknowledged leader here with hits like Blue Suede Shoes and Boppin the Blues. Many of Elvis' hits were rockabilly as were early hits by Jerry Lee Lewis, Buddy Holly, Roy Orbison, and others. Rockabilly evolved quickly and by the early 1960s, it was merged into mainstream classic rock.