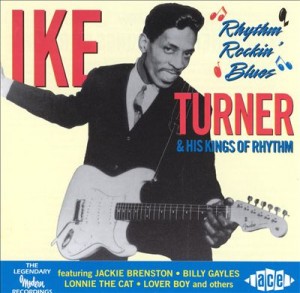 Ike Turner makes our list of founding fathers of rock and roll for his 1951 song Rocket 88. It's considered as possibly being the first rock and roll song. There are several other contenders for this title as rock and roll wasn't a new "out of the blue" type of music but rather an evolutionary change from Rhythm and Blues. Many of the experts though credit Rocket 88, or Rocket "88" as it was originally known, as being the first true and pure, through and through, rock and roll record.
Turner's music career started in high school where he joined a band called The Tophatters. This was in the late 40s, and The Tophatters specialized in Big Band music. The Tophatters eventually broke up with the band splitting in two directions. Some of the originals stayed with the Jazz based big band dance music, and part was going towards blues and boogie-woogie. The blues and boogie spinoff was led by Ike and named itself the Kings of Rhythm. Ike kept the Kings of Rhythm name for his band throughout his music career.
Turner and his band found some influential friends along the way. B.B. King already had a recording contract with RPM records. King helped them to get gig dates and introduced Ike to his producer at RPM, the legendary Sam Phillips, who later went on to found Sun Records.
Rocket 88
While driving to Memphis to meet Sam Phillips at Sun Studio, he and his band wrote Rocket 88. It wasn't Ike but Jackie Brenton, the band's saxophonist that did the vocals. Sam Phillips sold the record to another studio, Chess in Chicago, where it was released as coming from "Jackie Brenston and His Delta Cats". Delta 88 sold somewhere around a half-million copies, a big number for a new band, and it became part of rock and roll history.
Rocket 88 launched the careers of two rock and roll giants. Ike Turner and Sam Phillips. Sun Studios went on to record several of the other founding fathers of rock: Elvis, Johnny Cash, Jerry Lee Lewis, and Carl Perkins. Ike Turner didn't fare so well at first. Different accounts show him selling the rights to Rocket 88 at alternately $20 and $40. And Jackie Brenton didn't handle fame well. He and several of Ike's musicians went off on their own, soon went broke, and faded from the scene.
Turner spent the next several years as a session musician, songwriter, and producer for Sam Phillips and the Bihari Brothers while he rebuilt his band. The Bihari's were notable because they were white businessmen in a predominately black R&B world. They had substantial success in crossing R&B, over to the white audiences of rock and roll.
Two big changes happened in the late 50s. Many say that the musician lifestyle finally caught up to Turner. The former clean-as-a-whistle star had his first couple of run-ins with the law. It was the start of problems that plagued him for the rest of his life. Later on, he would miss his induction into the Rock and Roll Hall of Fame because he was in jail.
The second change was in 1958 when he was introduced to Anna May Bullock. Anna was eventually given a tryout and joined the band as a singer. She started as "Little Ann", but eventually changed her first name to Tina, and later took the last name of Turner. It was only a stage name at first, although Tina says that they were eventually married in 1962 (Ike disagreed).
The Ike and Tina Turner Review was a big success until 1976 when they broke up for good. Details of their rocky times together were made into a movie "What's Love Got to Do with It".
Ike and Tina Turner were inducted into the Rock and Roll Hall of Fame in 1991.