Themed albums, sometimes called concept albums, have a special place in rock history. Most albums are simply a collection of songs by an artist or group. A themed album has an additional story to tell and is based around a central concept or story.
Albums with a theme weren't new with rock music, but rock brought them to a new level. Maybe it was the advanced capabilities of the recording equipment that made it possible or maybe it was that music production had progressed. It was probably a combination of both, coupled with a few extremely talented musical geniuses, that made themed albums some of the tops of the 60s.
A few of the musical greats recorded successful concept albums before the rock era. Woody Guthrie was probably first with his Dust Bowl Ballads about life in the 30s. Frank Sinatra recorded several, most notably In the Wee Small Hours about loneliness and heartache, and Come Fly with Me about world travel. Going off subject a bit, but I can't help thinking what a fantastic rock star Frank Sinatra would be if he was at his prime during the golden age of rock.
Jazz great Nat King Cole recorded a few notable themed albums with After Midnight and Penthouse Serenade. And Country legend Johnny Cash built his reputation with Songs of Our Soil, a gospel inspired theme about death and mortality.
Then came rock and themed albums ruled
The Ventures, an instrumental group of highly skilled but low visibility studio musicians launched a series of themed albums in the early 60s. Their albums themed with surf music, country, outer space, television themes, and psychedelic music sold by the ton.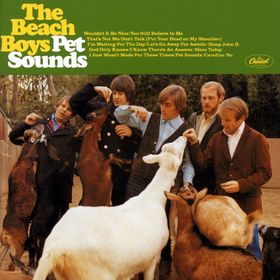 Brian Wilson's Pet Sounds album with The Beach Boys highlighted his musical genius. Even now, 50 years later, the musical world still talks about the Pet Sounds album as a single composition. Many of the individual songs were hits but the genius is in the assembled package. Paul McCartney credits Pet Sounds as being a major inspiration.
And they just got bigger from here…
Inspired by some of their predecessors, The Beatles' Sgt. Pepper's Lonely Hearts Club Band raised the bar. Many will say that the Sgt. Pepper bar is so high that it won't be topped but there are many that come close.
The Moody Blues Days of Future Past put a psychedelic spin on everyday life. The psychedelic spin came from the London Festival Orchestra twisted to the band's R&B rock style.
We've mentioned some of the finest examples, but space doesn't allow, and I'm not enough of an expert, to list all of the golden age of rock theme albums. There's two more that we need to mention though.
All of the examples so far have been musical themes, where the song or emotion style tied the album together. In 1969, just a few months before Woodstock, The Who released their rock opera Tommy. In addition to the musical theme, Who guitarist Pete Townshend wrote a storyline into Tommy that turned it into a rock opera. It tells the story of a deaf mute boy and how he gets along with family and his life and the relationship with his family.
I hate to mention this last one. Musical purists hate it, but we're all guilty of listening to them. It's the themed compilation. Titles like The Greatest Love Songs or The World's 20 best Cha Chas. I'll admit, that I own quite a few of them (I'm not a music purist), and they're the only way to go for holiday songs.