The late 50s were a turning point in the phonograph industry. Technology had grown to the point where home stereos were possible, although at first it was in the form of large console units. Amplifiers were still tube driven, and speakers were still primitive.
The 12 inch 78's (78 rpm) records ruled for almost 60 years, but by the 60s there were very few being made. The new vinyl 33s and 45s had taken over and were a big improvement in sound quality and durability.
A big part of the improvement came from the quality of the vinyl. Older 78's were brittle, highly breakable and scratch prone (they were made from a substance similar to furniture shellac). Vinyl was flexible and held a thinner "groove", the part that held the recording. Where the older 10 inch 78s were good for about 3 minutes, the newer 45's were only 7 inches and could hold up to 5 minutes. The 12 inch LPs (Long Play) could hold up to 30 minutes per side.
The thinner groove was called a "micro groove" and drove sales of equipment that was capable of playing the new format. The higher quality sound was marketed as "high fidelity", or "hi-fi". By the late 50s, technology advanced to stereo recording, with two channels (left and right) recorded on a single track. For a short while, records were released in both stereo and monaural versions, but the new stereo format soon became the standard.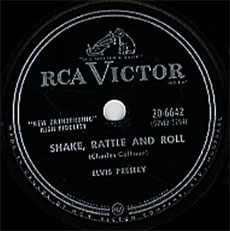 In the early 50s, records were played on a phonograph or record player. By the mid 50's, it was a Hi-Fi, and starting in the late 50s, records were played on the stereo.
Historians note an interesting theory about the contribution of 45s to the growth of Rock. As radio stations replaced their libraries of 78s with the better sounding 45s, they had an opportunity to "clean house", and many stations chose to "go with the new".