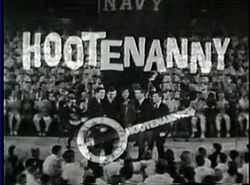 Shindig, Hootenany, and Hullabaloo were early TV rock music programs. Hootenany was first to air on ABC from April 1963 to September 1964. It was a variety show format and featured mostly folk music type acts. Early 1963 shows were 30 minutes, expanding to 60 minutes when the new season started in the Fall.
Hootenany was a big hit and by 1964 it was ABC's second most popular program. In the TV industry, that's a sure sign that there will be spin offs and copycats, and there were. Hootenany magazine and ABC-TV Hootenany were soon on store shelves.
As a side note, Hootenany ran into some controversy when it was rumored that they blacklisted Pete Seager and his group The Weavers. At the time, Seaver Seager had been convicted of contempt of Congress for refusing to testify at the House Un-American Activities Committee (which was later overturned). This was the same committee that subpoenaed Jerry Rubin and Abbie Hoffman of the Yippies in 1967 and 68.
Hootenany taped many of their episodes at college and university campuses. Frequent guests included The Journeymen, The Limeliters, the Chad Mitchell Trio, The New Christy Minstrels, The Brothers Four, Ian & Sylvia, The Big 3, Hoyt Axton, Judy Collins, Johnny Cash, The Carter Family, Flatt & Scruggs and the Foggy Mountain Boys, The Tarriers, Bud & Travis, and the Smothers Brothers.
Shindig was next. As the folk music scene faded out, Shindig was brought in as a replacement in 1964. Shindig was more rock oriented. Popular repeat performers included Lesley Gore, Bo Diddley, Sonny and Cher, The Beach Boys, James Brown and The Ronettes. There were several shows at the beginning of the British Invasion taped in Britain that included The Who, The Rolling Stones and The Beatles.
House band and performers included many artists that went on to be stars on their own. Shin-digger dance troupe regulars included Teri Garr and Toni Basil. The house band Shindogs included later to be famous Glen Campbell, Billy Preston, James Burton, Delaney Bramlett, Larry Knechtel, Leon Russell , and Glen D. Hardin. Regular vocalists also included some young talent: Donna Loren, Jackie DeShannon and Bobby Sherman. Darlene Love was one of the back up singers.
Next on TV was Hullabaloo, a NBC musical variety on in prime time. It had a bigger budget and more polished look. There was a different host every week, usually a top name artist, singing a couple of their own songs and acting as MC for the show.
Hullabaloo was a broadcast in color for those lucky few that had color TVs in the 60s, but most of the surviving footage is in Black and White. Many of the Hullabaloo and Shindig shows are still available on DVD and some streaming services.