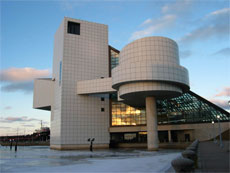 The Rock and Roll Hall of Fame Foundation was created in 1983 and the museum opened in 1993. It's located in Cleveland, Ohio where disc jockey Alan Freed is credited with popularizing the term "Rock and Roll", and where the first rock and roll concert was held.
The museum documents the entire history of rock and roll, not just the inductees who are honored in a special exhibit inside the museum.
The Rock and Roll Hall of Fame states their goal is to honor the bands and artists that have "influence and significance to the development and perpetuation of rock and roll".  Artists and bands become eligible for induction 25 years after the release of their first record. A nominating committee selects each year, and ballots are sent to a team of experts. Nominees who receive the most votes and at least 50% are selected. Additional categories exist for non performers, early influences, and sidemen. The annual induction ceremony is held each Spring in New York City.
There has been a lot of controversies over the inductees, with some complaining that entire genres have been left out. Most notable is Chubby Checker who has staged several good natured protests, but it's been noted that there have also been very few or no nominees from doo-wop, progressive, or hard-rock bands.
The first group of honorees were inducted in 1986. They included:
Performers
Chuck Berry
James Brown
Ray Charles
Sam Cooke
Fats Domino
The Everly Brothers
Buddy Holly
Jerry Lee Lewis
Elvis Presley
Little Richard
Early Influences
Robert Johnson
Jimmie Rodgers
Jimmy Yancey
Lifetime Acheivement
Non-Performer